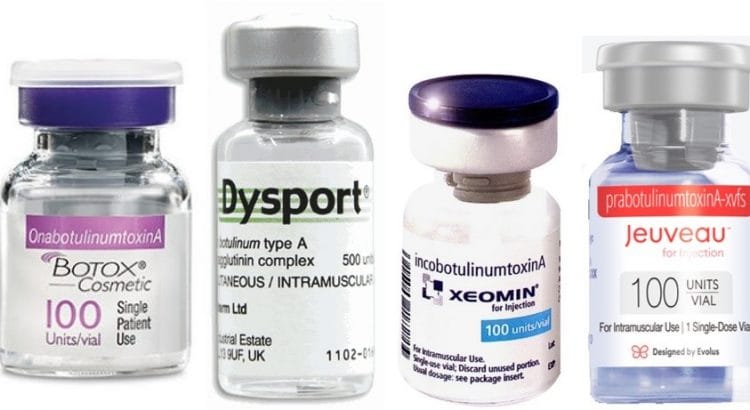 Neurotoxins are a type of cosmetic injectable administered into facial areas to relax muscles and prevent excessive contractions. This process causes wrinkles to become less pronounced, creating a more youthful facial appearance. Popular neurotoxin products include BOTOX® Cosmetic, Dysport®, and XEOMIN®, while Jeuveau® is the newest addition to the market.
How BOTOX Cosmetic Compares to Dysport & XEOMIN
BOTOX Cosmetic (onabotulinumtoxinA), Dysport (abobotulinumtoxinA), and XEOMIN incobotulinumtoxinA) all contain the same active ingredient—botulinum toxin type A—and are designed to treat the dynamic wrinkles that develop between the eyebrows, known as frown lines or glabellar lines. BOTOX Cosmetic is also FDA-approved for treating crow's feet and forehead lines. Although the products are very similar, BOTOX Cosmetic, Dypsort, and XEOMIN have unique formulations. This affects how much product is needed, their ability to spread underneath the skin, how fast results are seen, and the longevity of their results.
BOTOX Cosmetic is the most well-known neurotoxin on the market. Results are typically
noticeable within one to two weeks, and they last four to six months. Patients who undergo Dysport, on the other hand, often report they start seeing results sooner, sometimes after a few days of treatment and similarly last four to six months. XEOMIN results can be seen as early as three to four days after treatment, and last approximately three months. Dysport contains smaller protein particles, which are believed to make results happen faster. While Dysport typically costs less than XEOMIN and BOTOX injections, more product is needed to achieve optimal results, making the final price of the neurotoxins very similar.
All three neurotoxins can provide natural-looking results for the right candidates. One may be more beneficial depending on the type and extent of the patient's needs, as well as their preference. The most important aspect of getting neurotoxin injections is to seek care from a highly experienced and qualified medical professional.
What Is Jeuveau & Is It Better than BOTOX Cosmetic?
Jeuveau (prabotulinumtoxinA-xvfs) is a new neurotoxin injectable by Evolus™ that received FDA approval in February 2019 for improving the appearance of moderate to severe frown lines. Calling itself #NEWTOX, Jeuveau is designed strictly for cosmetic purposes and highlights its unique manufacturing process that utilizes Hi-Pure™ technology. Although Jeuveau is another type of botulinum toxin type A, it is being marketed to a younger demographic who may not have considered BOTOX injections in the past.
Jeuveau is being sold at a slightly lower cost than other neurotoxins, which may make it a more attractive option for some people. However, no research has indicated whether Jeuveau is better than the other neurotoxins currently available. Jeuveau has a similar lifespan to BOTOX Cosmetic, Dysport, and XEOMIN, with results gradually taking effect within one week and lasting about three to four months.
Will Topical Botulinum Toxin Ever Be a Reality?
While BOTOX Cosmetic and other neurotoxins have been extremely popular over the years, most patients would prefer a less invasive way to diminish their wrinkles. Numerous facial creams promise to turn back the clock on facial aging, but they simply can't produce the dramatic improvement that injectable neurotoxins have been able to achieve. As a non-invasive alternative to BOTOX Cosmetic, Revance Therapeutics had been developing a topical botulinum toxin gel for crow's feet, called RT001. However, in June 2016, the product failed its third phase of clinical trials and was no longer pursued.
Other topical versions of botulinum toxin are currently undergoing trials, but whether or not these will pass is yet to be determined. According to Aesthetics, the UK's leading medical aesthetic professional publication, there are many challenges that come with creating this topical neurotoxin. The journal notes that manufacturers need to find a way to deliver the neurotoxic molecule through the skin to the nerves, as well as develop a more concentrated neurotoxin that can reach deep into the muscle. Due to the need for a higher concentration, price may also become an issue with making the topical product more desirable than botulinum toxin type A injectables.
While a topical alternative to BOTOX Cosmetic has yet to be released, there's no doubt the approval of such a product would be well-received by patients. Time will tell if pharmaceutical companies are able to successfully launch a gel version of botulinum toxin A.
Previous Post
Next Post