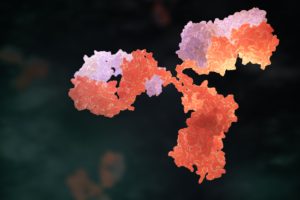 The biologic drug landscape continues to evolve. These drugs utilize antibodies engineered to bind to specific targets and interfere with the pathogenic pathways of different diseases. With more and more therapies coming to market, patients and physicians have more therapeutic options to consider.
In dermatology, most of the biologic therapies that have come to market are used to treat psoriasis. This common, immune-mediated disorder leads to thick and scaly plaques of skin, can affect the joints with arthritis, and has even been associated with metabolic syndrome, hyperlipidemia and heart disease.
While topical steroids, UV light and systemic immunosuppressive therapies have worked well to treat psoriasis historically, the advent of biologic medicines has really revolutionized treatment of this disease. And, with more specific therapeutic targets, easier dosing, fewer side effects, better skin disease clearance (PASI 100 scores!) and overall improved tolerability, physicians might struggle how best to match the patient with their best biologic treatment.
The Players
The newest generation of biologic drugs for psoriasis target two main inflammatory mediators: interleukin (IL)-17 and IL-23.
Both IL-17 and IL-23 are cytokines. Cytokines are small protein molecules in the body that allow communication between cells and can activate different parts of the body's immune system. As such, cytokines control different elements of inflammation.
There is 30 times more IL-17 in patients with psoriasis skin lesions than people without lesions. Whereas IL-23 is associated with the inflammation in psoriasis and psoriatic arthritis.
What's the difference between these two cytokines? Both are actually found in the same cellular pathway in psoriasis. IL-23 cytokines are more upstream in this pathway and their presence in psoriasis actually leads to the generation of the midstream inflammatory IL-17 cytokine.
The older biologic therapies tend to target Tumor Necrosis Factor, or TNF. TNF also regulates immune cells and inflammation but of a much wider level, with much broader effects on the body.
Name Game
Biologics tend to have a unique nomenclature that is used to describe the composition of the antibody they employ. Some common biologics used in the treatment of psoriasis are:
TNF-α inhibitors: etanercept (Enbrel), infliximab (Remicade), adalimumab (Humira), and certolizumab (Cimza)
IL-12/IL-23 inhibitors: ustekinumab (Stelara);
IL-17 inhibitors: secukinumab (Cosentyx), ixekizumab (Taltz)
IL-17 Receptor inhibitor: brodalumab (Siliq)
IL-23 inhibitors: guselkumab (Tremfya), tildrakizumab (Ilumya), and risankizumab (Skyrizi).
Role The Dice?
With so many drugs out there, it is often difficult to know which one to select for your patients. Thankfully, a group out of the University of Manchester in the U.K. recently conducted a systematic review of randomized controlled trials evaluating biologic treatments to try to determine which one worked "best."
Their analysis showed the anti-IL-17 therapies performed better that the IL-23 targeted therapies and other biologics. These treatments had consistently greater clinical benefits as assessed by PASI (Psoriasis Area and Severity Index) scores for treatment given for 12 to 16 weeks.
At 12 weeks of treatment, Taltz (ixekizumab) and Siliq (brodalumab) produced the best results, while at 16 weeks, Taltz was associated with what investigators described as the "maximum cumulative clinical benefit percent" compared to any other drug.
Are you a psoriasis patients looking for treatment? Want to learn more about the world of biologics in dermatology? Contact Dr. Mamelak here to learn more.
Previous Post
Next Post