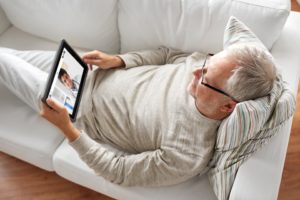 There are many people that live so far from a doctor or healthcare facility that they can't access reasonable healthcare services.  With the current threat of the COVID-19 viral pandemic facing our communities, infrastructure shut downs and quarantines, there are unfortunately other circumstances that do not allow patients to visit their doctor's office.
Teledermatology is a telemedicine service that can provide patients with skin care and medical services that have difficulty reaching a dermatologist. It's been in practice for some time and has seen a lot of success. States like Texas have enacted laws that allow insurance companies to cover telemedicine services like this under some reasonable conditions. Let's take a look at how teledermatology is covered and how it can help you.
Teledermatology at a glance
Teledermatology means that a patient meets with a dermatologist via video conferencing through the web, store and forward picture technologies (secure texting, etc.), or some other means to receive care. It's seen a lot of success in the military, rural areas and some third world countries where access is a major problem. Some of the services that a patient can get through teledermatology are things like consultations, skin care evaluations, treatment recommendations, medication management and prescriptions, as well as specialist referrals.
This means that a dermatologist can see the condition of your skin, prescribe a treatment and/or make a recommendation to see an appropriate specialist, without you making the long trip to their office. This keeps patients and healthcare providers safe during these times, and saves a lot of time for the doctor and the patient.
Some of the conditions a dermatologist can treat via telemedicine include: acne, rosacea, hair loss, eczema, psoriasis, biologic management, spot checks, pre and post op consultations for skin cancer surgery, new rashes, melasma, hyperpigmentation, vitiligo, keratosis pilaris, and skin care advice, among others.
Insurance coverage for Teledermatology
Texas is a great example of state laws making everyone's lives easier. In 1997 Texas enacted the telehealth parity law which requires providers to cover telehealth services when required. Although there are certain restrictions like Medicaid applicants having to be at an approved site the law has still expanded coverage for a lot of people. It's best to check in with your own insurance provider to get details that are unique to your own situation but the laws do exist to expand coverage.
HIPAA and Teledermatology
A lot of people become concerned with how their privacy is protected with anything done over the internet or that involves large amounts of data going to a provider. HIPPA rules still apply to telemedicine and providers have to protect your data. What this means is that only authorized people would have access to stuff like your ePHI data. So teledermatology is held to the same high HIPPA standard as in-person medicine.
State-Wide Care
Physicians that perform teledermatology visits follow the same standards, rules and regulations that apply to caring for patients in the office. While this ensures the highest quality of care for treating patients via telemedicine, it also means that physicians have to practice and treat patients within the areas they are licensed. In general, patients should see a telemedicine provider in the state where they reside.
Tech Requirements
For the best teledermatology encounters, I advise patients to use their smart phones or tablets that have high resolution cameras for the best image capture or video conferencing. These cameras are generally better than the ones on laptops, and it is easy to perform a teledermatology visit with your doctor on these mobile devices.
Many teledermatology platforms do not require the patient download any additional software or apps. Obviously, the better your high speed internet connection during your telederm visit, the better you will be able to communicate with your doctor.
Final thoughts
Teledermatology has increased access to services for patients with access issues, or during times when access is impaired. It does this by allowing patients to communicate and be consulted via the web or some other means. Texas has passed some pretty good state laws requiring insurance providers to cover these services with little restrictions. Your private data is still protected by HIPPA so you really have nothing to worry about.
You can read more about telemedicine strategies in my U.S. News & World Report article here; or to learn more about teledermatology or set up a telemedicine appointment in Texas, contact me!
Previous Post
Next Post