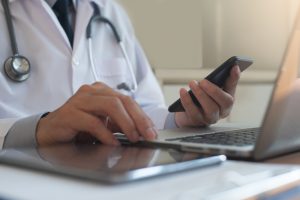 Artificial intelligence (AI) is a revolutionary development in dermatology that can help streamline clinical care and enhance diagnostic outcomes. Currently, AI tools are focused on carrying out administrative tasks, such as booking appointments. This helps automate certain processes and allows professionals to dedicate their time to more complex areas of care. As AI software continues to become more sophisticated, it will develop into an invaluable tool that complements the dermatologist as they provide skin cancer screenings, diagnoses, and treatments.
One way this is possible is through the use of a deep convolutional neural network (CNN), which utilizes a library of images to find similar lesions to the one on the patient in question. By considering the pathology of similar patient cases, the CNN can offer insight into other patients from around the world who presented with similar conditions and how their cases responded to treatment. Through machine learning, the CNN can be taught to improve its accuracy. This method of AI in dermatology works in conjunction with the doctor to ensure they are making evidence-based decisions with more reliable outcomes.
AI also plays an important role in pathology, allowing for cancer to be detected earlier and faster. With AI technology skin biopsies can be examined at a microscopic and molecular level to provide a more detailed view. However, since removing skin lesions is an invasive process, AI may eventually allow for radiology tools to be enhanced to the point where physical samples are no longer needed, and tissue can effectively be evaluated through digital means.
In addition to AI becoming more common in the consultation room and the lab, software has even extended to consumers through the power of their smartphones. Various apps have been created to allow men and women to better monitor changing moles or marks on their skin. While these apps cannot provide a skin cancer diagnosis, they can be helpful in signaling to patients when they need to visit their dermatologist between routine exams.
Although AI software still needs further improvement to ensure the utmost accuracy, there is no doubt these tools have the potential to transform dermatologic care. As algorithms and technologies continue to advance, AI is expected to gradually be incorporated into more dermatology offices. Some studies have already shown that AI can be just as accurate as dermatologists in detecting skin cancer, if not more. This offers a glimpse into the potential that these innovative tools can bring to the dermatologic setting.
Previous Post
Next Post