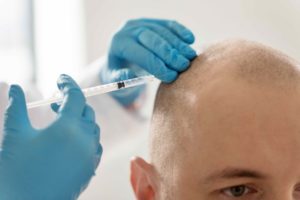 Platelet-rich-protein or platelet-rich-plasma (PRP) is taking the world by storm as an effective way to utilize the body's own proteins, stem cells, and growth factors to repair and rejuvenate skin and tissues.
After its discovery in the 1970s, PRP was predominately used during oral surgery and for orthopedic procedures, gaining notoriety in 2009 after high-profile athletes benefited from its healing benefits. One of the many ways PRP can benefit the body by utilizing its own healing properties is through restoration of hair growth.
PRP therapy can benefit three types of hair loss:
Male Pattern Hair Loss: Androgenic alopecia, or male pattern baldness, has been shown to be lessened, with an increased in hair growth, using PRP. PRP can also be beneficial when used in conjunction with hair transplant for male pattern baldness, or in conjunction with medication intended to block the effects of the hormone DHT on the hair follicles.
Female Pattern Hair Loss: Female pattern hair loss tends to result in a diffuse thinning of hair over the entirety of the scalp. PRP has been shown to be clinically effective for this type of hair loss.
Alopecia Areata: Alopecia areata is a form of auto-immune hair loss. It can occur over the entire scalp and body or in patches. PRP has been shown to help people with alopecia areata to regrow hair on their scalp with a low percentage of relapse.
Platelet-rich-protein is an emerging treatment with great promise in many areas. Studies are showing the effectiveness of PRP for treatment of hair loss, including male-pattern baldness, female-pattern, and alopecia areata. While I have used PRP successfully to treat a number of patients, it is important to consult a physician to determine if you are a good candidate for this treatment and see how PRP might help you.
Previous Post
Next Post